Center for Research & Publication (CRP)
---
1. The Mission, Vision and Objectives of the Center:
The Center for Research & Publication (CRP) of IIUC aims at creating new knowledge in different branches of disciplines, Islamization of existing disciplines and dissemination this knowledge to the learners, academicians and practical users. Proper initiatives shall be taken to create an environment conducive for research for all sorts of researchers in general and for IIUC academics in particular.
The mission of CRP is to explore new dimensions of knowledge in the existing programs and new branches of knowledge and also to Islamize the whole education system and to disseminate this knowledge in different branches of scholarship for the seekers of knowledge.
The vision of CRP is to work towards building a just, upright society which is based on faith and the foundation of logic and knowledge.

2. Activities of CRP:
The main functions of CRP shall be as follows:
A. Research, Workshop and Conference:

i) To organize Seminars, Symposiums, and Workshops to train up IIUC staff on research activities.
ii) To organize Workshop, National, and International Conferences on different burning issues including those related to Muslim Ummah and the challenges faced by them.
iii) To undertake individual and joint programs of research on different issues.
iv) To explore the avenues for organizing joint research programs in collaboration with other Universities abroad.
v) To identify the areas of new research and issues of priority of research in the context of national and Ummatic interest.
vi) To enter into Contract with foreign universities and make arrangements for IIUC academic/administrative staff and postgraduate students for PhD/MS program from contracting university under suitable Doctoral Training Agreement.
B. Publication:
i) To publish research monographs or books of research independently or jointly with other research institutes or Universities at home or abroad as part of regular activities.
ii) To publish research journals (OAJ and print) and periodicals in different International Languages, and to explore venues for its marketing.
The existing four journals e.g. IIUC Studies (English), Dirāsāt al-Jāmi'ah al-Islāmiyyah al- 'Alamiyyah Chittagong (Arabic), IIUC Business Review and IIUC Journal of Science and Engineering shall continue to be published under CRP as usual. These should be under OAJ system.
iii) To arrange regular display programs on the activities of the Center and try to generate income through selling the publications.
iv) To facilitate the faculty members in producing and publishing their scholarly works in indexed/ranked journals.
C. Ethical Knowledge:
i) To take initiatives for inclusion of ethical knowledge to improve ethical orientation of our thoughts and actions through understanding Islam with realization from our functions and operations in everyday life.
ii) To add additional contents to remodel the conventional course contents (where possible) to fit to Islamic perspective.
iii) To modify the modes of teaching and presentation of conventional course contents to signify their aspects of relevance and conformity and otherwise from Islamic perspectives.
iv) To take any other initiatives for the modes of operation as the competent authority deems suitable.
3. Administrative System:
CRP's administration may run on the following administrative system:
3.1 Organogram of Center for Research and Publication (CRP)*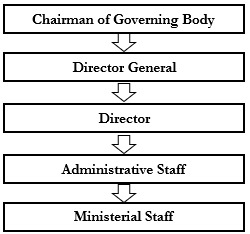 3.2 Formation of Governing Body of CRP*
There shall be a separate Governing Body (GB) of CRP headed by the Honorable Vice-Chancellor as follows:
| SL | Name | Designation |
| --- | --- | --- |
| 1 | Chairman, BoT | Chairman |
| 2 | Vice-Chancellor | Member |
| 3 | Pro-Vice Chancellor | Member |
| 4 | Two Members from BoT | Member |
| 5 | All Deans | Member |
| 6 | Director, CRP | Member |
| 7 | Director General, CRP | Member Secretary |
3.3 Formation of Editorial Boards of the Journals:
The Editorial Board of four Research Journals, currently being published, will be as under:
A) IIUC Studies
| SL | Name | Designation |
| --- | --- | --- |
| 1 | Vice-Chancellor | Chief Editor |
| 2 | Director General, CRP | Co-Editor |
| 3 | Dean, Faculty of Arts and Humanities | Executive Editor |
| 4 | Dean, Faculty of Science and Engineering | Member |
| 5 | Dean, Faculty of Business Studies | Member |
| 6 | Dean, Faculty of Social Science | Member |
| 7 | Dean, Faculty of Law | Member |
| 8 | Two Chairmen(nominated by VC, not below the rank of Associate Professor) | Member |
B) Dirāsāt al-Jāmi'ah al-Islāmiyyah al- 'Alamiyyah Chittagong
| SL | Name | Designation |
| --- | --- | --- |
| 1 | Chairman,BOT | Chief Editor |
| 2 | Director General, CRP | Co-Editor |
| 3 | Dean, Faculty of Shariah and Islamic Studies | Executive Editor |
| 4 | Chairman, QSIS | Member |
| 5 | Chairman, DIS | Member |
| 6 | Chairman, SHIS | Member |
| 7 | Chairman, ALL | Member |
| 8 | Director, CGED | Member |
| 9 | One Professor from FSIS (nominated by VC) | Member |
C) IIUC Business Review
| SL | Name | Designation |
| --- | --- | --- |
| 1 | Pro-Vice Chancellor | Chief Editor |
| 2 | Director General, CRP | Co-Editor |
| 3 | Dean, Faculty of Social Science | Executive Editor |
| 4 | Dean, Faculty of Business Studies | Member |
| 5 | Chairman, DBA | Member |
| 6 | Chairman, DEB | Member |
| 7 | One Professor from FBS (nominated by VC) | Member |
D) IIUC Journal of Science and Engineering
| SL | Name | Designation |
| --- | --- | --- |
| 1 | Renowned senior Researcher from Science & Engineering | Chief Editor |
| 2 | Director General, CRP | Co-Editor |
| 3 | Dean, Faculty of Science and Engineering | Executive Editor |
| 4 | Chairman, CSE | Member |
| 5 | Chairman, CCE | Member |
| 6 | Chairman, EEE | Member |
| 7 | Chairman, ETE | Member |
| 8 | Chairman, CE | Member |
| 9 | Chairman, Pharmacy | Member |
| 10 | One Professor from FSE (nominated by VC) | Member |